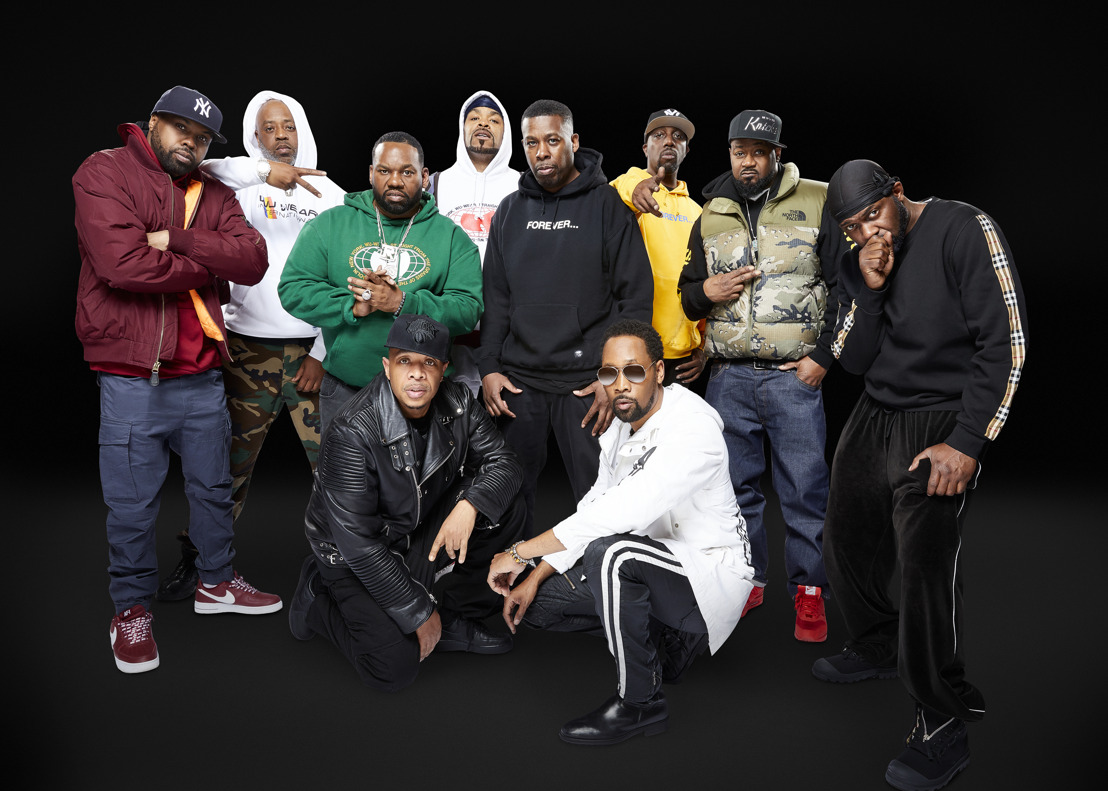 Wu-Tang Clan Announce Atlanta Takeover at A3C
Featuring a Film Screening w/ Ghostface Killah, U-God Book Reading, 36 Chambers Inspired Art Gallery and More
Thursday, September 6, 2018 — The Wu-Tang Clan will be headlining the A3C Festival in Atlanta on October 6th. In addition to a full group performance featuring all nine members (RZA, GZA, Method Man, Raekwon, Ghostface Killah, Inspectah Deck, U-God, Masta Killa and Cappadonna), each individual member will be participating in various events around Atlanta throughout the weekend. The events coincide with the Wu-Tang Clan's celebration of the 25th Anniversary of their debut album: Enter The Wu-Tang (36 Chambers).
Every member of the Wu-Tang Clan is participating in a special 2-Day Wu-Tang experience that will climax with a headlining performance at the 14th annual A3C Festival in downtown Atlanta at the Georgia Freight Depot on Saturday, Oct 6th.
On Friday, Oct 5th attendees will have exclusive access to Film Screening with Ghostface Killah at Plaza Theatre followed by an intimate lighthearted Q&A with Pretty Toney, as well as "The 36 Chambers: A Wu-Tang Inspired Shop" Art Show at the WISH Gallery featuring nine Atlanta-based artists who have been commissioned to produce 4 new artworks including Mathematics (creator of the "W" and longtime DJ). Wu fans will also be able to fulfill their dreams of playing Chess against GZA and Masta Killa In addition to the above, fans will get priority seating for RZA's conversation with NPR's Rodney Carmichael at Loudermilk Center and at Criminal Records for U-God's book reading
On Saturday, Oct 6th, there will be a BBQ with a full menu curated by Raekwon "The Chef" and a full open bar. Fans can also participate in an open cipher in front of Method Man and Inspectah Deck. The weekend concludes with a private meet & greet followed by a headlining performance by all original members of the Wu-Tang Clan
Other Wu-Tang-affiliated events happening that weekend include free Wu-Tang tattoos at City of Ink, free haircuts at Killer Mike's SWAG Shop, Cookies and C.R.E.A.M. flavored ice pops at King of Pops, and various other events in the city throughout the weekend.
The WuTangATL tickets include a 5-Day A3C pass, which provides access to the 2-Day Festival, 3-Day Conference and 5-days of Shows, Events & Parties in Atlanta as well as the Festival VIP Upgrade, which enables access to the Festival's VIP Area that includes the pit in front of the main stage and a lounge with a bar, couches, tables and chairs next to the main stage. The WuTangATL tickets will also include Limited Edition Wu-Tang swag, free drinks at the Plaza Theatre film screening and the WISH Art Gallery as well as free food & drinks at the BBQ.
For a full description of each WuTangATL event please visit: http://www.a3cfestival.com/wutangatlbelow: